Early Buildings in Historic Towns Initiative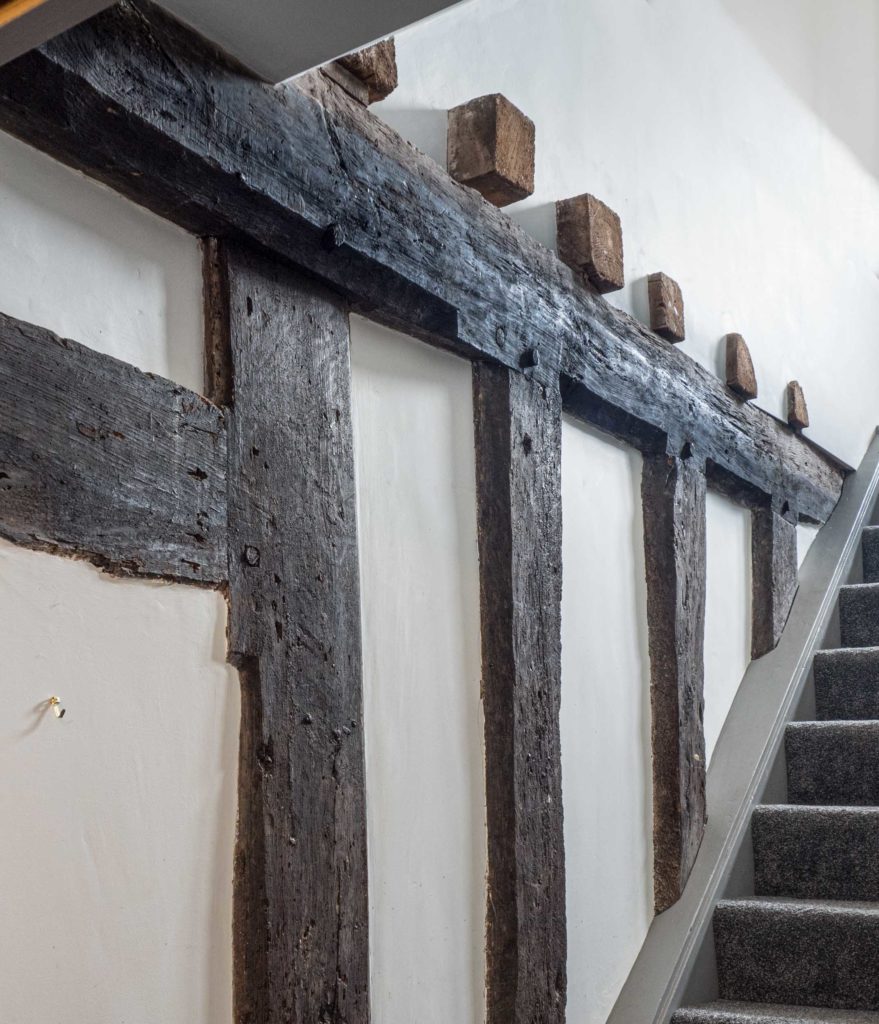 The SANHS Building Recording Group has been awarded a project by Historic England to look at the "Early Building Fabric in Dunster". The 2 year project was launched in June 2018 and was due to complete in September 2020. Due however to the extent of early fabric being identified by the project, it has now been extended by a further 2 years.
Currently there are 2 exhibitions running in Dunster, one at the Museum and one in the north aisle of the Church.  It is intended to run a major event in September 2020 in Dunster with visits to properties and talks by experts.
The team of very able volunteers are involved with various aspects of the project.  The aim is to interpret the early phases of each building to gain a better understanding of the early town. This is done by surveys to measure the structure of the buildings which are complemented by photographs, research into documentation, including probate records, earlier publications and the SANHS Proceedings etc. On average 2 properties per month are surveyed by  volunteers with no previous experience but extensive enthusiasm. The reports about these are given to owners and a copy lodged at the Somerset Records Office with articles supplied for the SANHS Proceedings.The surveys are supported by training from Historic England which is ongoing.
From earlier records, we know that there is early (pre 1600) roof evidence in at least 25 properties with dendro-dating showing evidence from the 14th and 15th centuries. In addition, the two wing roofs of the Priory have been dendro-dated to 1270 – 1302 and 1439 – 1471 respectively.Dendro dating involves analysis of old timber samples to estimate the age of the building. Historic England will fund and organise further dendro-dating as part of our project.
As well as working with Historic England we work closely with Dunster Museum, local organisations such as the local archaeology group and individuals who have personal stories to tell about Dunster. Any one knowing of suitable properties or interested in being involved in the study are invited to contact us as soon as possible.
One of the main subjects of our survey activities in 2019 has been the Castle Gatehouse The building is particularly complex and includes architecture ranging from mediaeval to Victorian times.
One of the oldest features is thought to be the main gates which are believed to date from the 13th century. The heavy ironwork reinforcement may have been added later.
Newsletters are sent at least twice a year to update all on our contact list.  The new look newsletter mainly about Dunster has been put together by one of our skilled volunteers.  If you would like to be added to our contact list, please advise the SANHS office.   [email protected]
Earlier newsletters can be seen under the Historic Buildings Committee section.