Sponsored by Historic England
Working with Dunster Museum

Early Dunster Project Autumn Event
The SANHS Building Recording Group's Early Dunster Project had been planning to hold a live event in September 2020 to give an update on the project, including a programme of lectures by guest speakers and an exhibition illustrating some of the progress and findings of the project to date. Obviously COVID-19 has impacted our plan, but undeterred, we will now be staging it as an On-Line event during September and October.
Check below for more details of the event programme and to register for the lecture series.
This is a Free event with donations to the Somerset Archaeological and Natural History Society. A voluntary donation would however be greatly appreciated. We suggest a donation of £3 or more. (Please use code EDP2020 to identify donations). Thank You.
**NEW ** The slides from Dr. Nat Alcock's excellent webinar on Cruck Building: England, Wales and the West Country are available to view here.
You can also click here to read a reflection on the webinar by Dr. Lizzie Induni, webinar host and Chair of the SANHS Historic Buildings Committee.
Click Here or visit our Event Page  for details. To register, please email  [email protected]
Early Buildings in Historic Towns Initiative
The SANHS Building Recording Group has been awarded a project by Historic England to look at the "Early Building Fabric in Dunster". The 2 year project was launched in June 2018 and was due to complete in September 2020. Due however to the extent of early fabric being identified by the project, it has now been extended by a further 2 years.
Currently there are 2 exhibitions running in Dunster, one at the Museum and one in the north aisle of the Church.  It is intended to run a major event in September 2020 in Dunster with visits to properties and talks by experts.
The team of very able volunteers are involved with various aspects of the project.  The aim is to interpret the early phases of each building to gain a better understanding of the early town. This is done by surveys to measure the structure of the buildings which are complemented by photographs, research into documentation, including probate records, earlier publications and the SANHS Proceedings etc. On average 2 properties per month are surveyed by  volunteers with no previous experience but extensive enthusiasm. The reports about these are given to owners and a copy lodged at the Somerset Records Office with articles supplied for the SANHS Proceedings.The surveys are supported by training from Historic England which is ongoing.
From earlier records, we know that there is early (pre 1600) roof evidence in at least 25 properties with dendro-dating showing evidence from the 14th and 15th centuries. In addition, the two wing roofs of the Priory have been dendro-dated to 1270 – 1302 and 1439 – 1471 respectively.Dendro dating involves analysis of old timber samples to estimate the age of the building. Historic England will fund and organise further dendro-dating as part of our project.
As well as working with Historic England we work closely with Dunster Museum, local organisations such as the local archaeology group and individuals who have personal stories to tell about Dunster. Any one knowing of suitable properties or interested in being involved in the study are invited to contact us as soon as possible.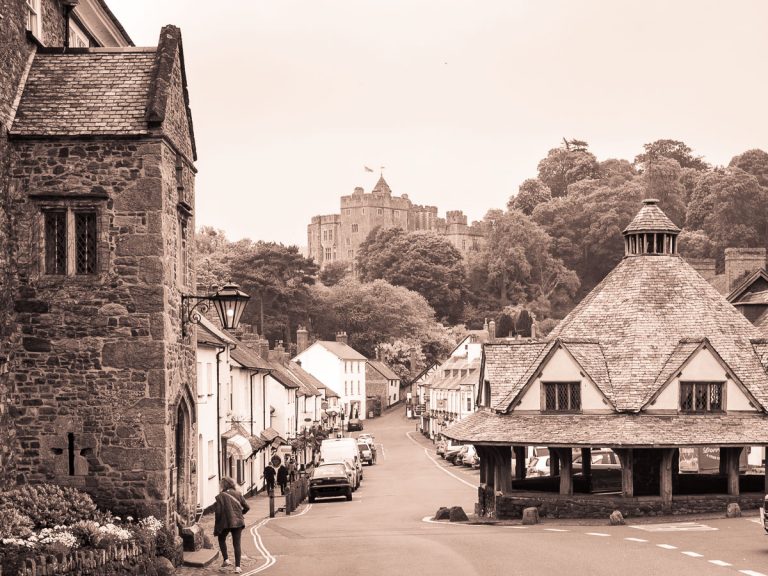 One of the main subjects of our survey activities in 2019 has been the Castle Gatehouse The building is particularly complex and includes architecture ranging from mediaeval to Victorian times.
One of the oldest features is thought to be the main gates which are believed to date from the 13th century. The heavy ironwork reinforcement may have been added later
Anatomy of a Typical Dunster House
Many of the buildings being surveyed and recorded by the Early Dunster Project were originally "Hall Houses". These were dwellings typically built for business people or artisans, and were characterised by a central open hall, extending from floor level right up to the roof and serving as the main living space. At either end of the building there were smaller rooms which may have  been used for storage, food preparation etc, and a 1st floor sleeping area or "Solar" which would have been accessed by  ladder.
The typical hall house had a cross passage giving access from the front and rear of the property.  The cross passage was often sloped to enable any rainwater getting at one end to run out the other end. The cross passage was formed by wooden "plank and muntin" screens on either side, the framework of which is still visible in some houses today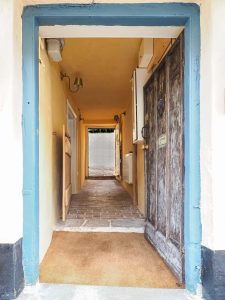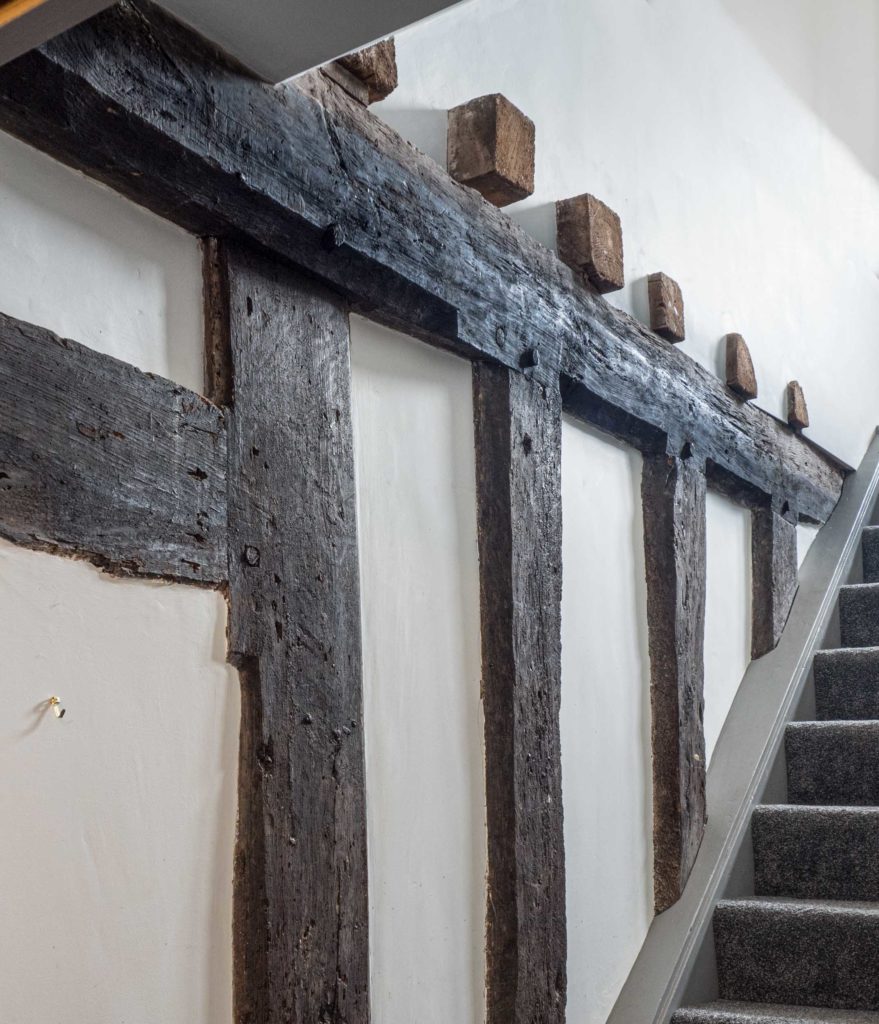 At the core of the structure were a set – typically 4 or 5 in number – of heavy wooden (usually oak or elm) trusses set in the walls and running up to the ridge of the roof.  Some are "true crucks" where each half (blade) of the truss, from ground level to the apex, was cut from a single piece of timber. This would have required a large tree, with branches suitably placed to enable the cruck shape to be formed. Often no suitably sized and shaped timber was available, and rather than a true cruck, the truss would have been formed as a jointed cruck, with 2 sections being jointed together at the "elbow". 
The truss incorporated a heavy horizontal collar, jointed and pegged to the main timbers, to prevent sagging and spreading under the weight of the roof.
The trusses at either end of the central hall may have been filled or "closed" with wattle and daub, to form a partition eg between the hall and solar.
Some trusses, particularly in larger, grander buildings, incorporate additional "arch-braces" below the collar to add further strength and stability, and curved wind braces between adjacent trusses to stabilise against length-ways distortion. 
As well as adding strength to the structure, these additional braces make attractive decorative features, and were often chamfered at the edges to add to the aesthetic.
The early houses had only a few windows, perhaps one  main one in the hall and smaller ones, often no more than narrow slits, in the ancillary rooms. The wooden or stone window frames were un-glazed, with hinged wooden shutters providing the only measure of security and draught proofing.
One of the features we frequently encounter during our surveys is carpenters marks. Perhaps the most common form of these is assembly marks, typically roman numerals, which were scribed or gouged onto the mating halves of a joint to indicate the right sequence of assembly. (Frames or trusses were often created off-site, then dismantled and transported to site for reassembly).  
Another form of mark, often harder to spot, are parallel lines which the carpenter would have scribed onto a timber before setting to work to cut out a joint. These seem to have a special appeal in that they provide a strong identity with the carpenter and his craft. Whilst assembly marks were in a way supplementary to the finished product, the original marking out of a mortice somehow reflects the personality, design and craftsmanship that went into its creation.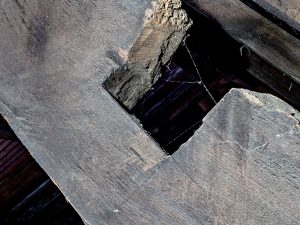 One thing which didn't feature in early hall houses was a chimney. A fire would be lit in a small hearth on the floor of the main hall, and the smoke would find its own way out through windows, gaps in the roof, or wherever else it could. This led to blackening of roof timbers,  which in many cases survives to the present day today and is one of the clues that a building may have been an original hall house.
We very much hope that everyone is coping as well as possible with the challenges and changes to our lives that COVID-19 has brought about.
As something to hopefully help pass the time in these difficult days, our latest (Spring 2020) newsletter is now available on the website and contains lots of interesting articles, including an update on our research into the Castle Gatehouse and Old Priory, some insights into those rather intriguing inscribed and burnt marks we find dotted around our buildings, and a cautionary tale of one former Dunster resident who seems to have had rather extravagant tastes!
Newsletters are sent at least twice a year to update all on our contact list.  The new look newsletter mainly about Dunster has been put together by one of our skilled volunteers.  If you would like to be added to our contact list, please advise the SANHS office.   [email protected]
Earlier newsletters can be seen under the Historic Buildings Committee section.