SANHS Natural History Committee
Misumena vatia (a crab spider) on Sorbus aucuparia (rowan), June 2020   Photo: Karen Turvey

The Natural History section of the Somerset Archaeological and Natural History Society is administered by the Natural History Committee under guidance from the Society's Board.
The Committee usually provides a programme of winter talks in Taunton and summer field meetings around the county for members and other interested persons or organisations, and these are advertised in the Society's appropriate Programme of Events.
Due to the current pandemic meetings are in abeyance but we are arranging a series of online events.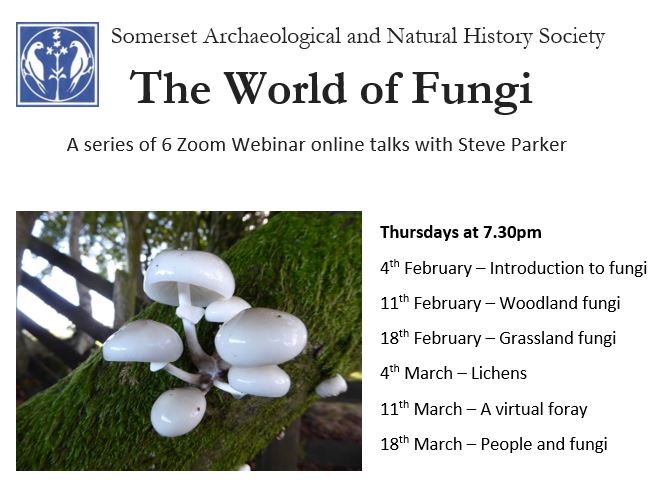 Steve Parker tours the world of fungi in 6 Zoom Webinars!
Join us for as many or as few talks as you like. All welcome.
Click here to register for the February talks.
Click here to register for the March talks.
Or send an email to [email protected].
After registering, you will receive a confirmation email with information about attending.
This is a free event, with donations to the Somerset Archaeological and Natural History Society welcome. If you would like to donate, please head to the Fundraising page. We suggest a donation of £4 or more.
The Pat-Hill Cottingham Memorial Fund, administered by the committee, is devoted to encouraging and assisting high quality research into the natural sciences (biology, geology, paleontology, zoology, mycology, ecology) in the historic county of Somerset by offering financial support for aspects of research that could not otherwise be funded from other sources.
The Committee encourages natural history papers to be submitted to the Society's Annual Proceedings as a full paper, or shorter communications and reports, for the 'Ecology in Somerset' section of the Proceedings.